Breast Augmentation Houston
Beast augmentation could be the surgical procedure you've been looking for, if you would like to improve the appearance of your breasts. Many women find that this procedure gives them more self-esteem, poise, and confidence in their appearance.
In fact, that's what makes breast implants one of the most popular cosmetic breast procedures in the Houston area.
Breast augmentation can improve the size, shape, and positioning of your breasts. Every woman has unique needs when it comes to the appearance and comfort of her breasts.
Dr. Steinberg performs breast augmentation surgery and takes a personalized approach to each and every one of her patients, making sure to include her female perspective.
Meet Dr. Ashley Steinberg – Breast Augmentation Surgeon in Houston
Dr. Steinberg completed basic science classes in St. George's, Grenada, after earning degrees from universities in London and Windsor, Ontario, Canada. She graduated Magna cum Laude from SGU and secured a general surgery residency in Brooklyn, New York, where she had the privilege of working with two plastic surgeons while scrubbing in.
Upon her transfer to the University of Nevada, School of Medicine, Dr. Steinberg was fortunate to have the opportunity to rotate in plastic surgery under the guidance of the late, revered Dr. William Zamboni.
Her passion for learning led her to the Houston Medical Center, where she underwent an additional three years of plastic surgery training with some of the world's most distinguished plastic surgeons at the esteemed Houston Methodist Hospital.
Dr. Ashley Steinberg has received the Rising Stars Top Doctor award in Texas for three consecutive years and has completed more than 1500 plastic surgery procedures.
WHAT IS BREAST AUGMENTATION?
Breast augmentation is a cosmetic surgery procedure that involves the insertion of implants under the breast tissue or chest muscles to increase the size and improve the shape of the breasts.
This procedure is typically performed for aesthetic purposes and is commonly sought by women who are dissatisfied with the size or shape of their breasts.
Breast Augmentation Houston Reviews
If I could give her 6/5 stars I would!! Dr. Steinberg has done my Botox/Dysport multiple times. She is very thorough and does a fabulous job. My budget for botox is not large, but I like to get multiple areas done (forehead, between the brows, eye brow lift, crows feet, masseters). She always takes this into consideration and makes a little go a long way. She's even taken care of my RBF lol!
I have always been 100% satisfied with my results and personally know many people that would say the same.
Anna B.
Dr. Steinberg is a meticulous surgeon with amazing bedside manner. I couldn't be happier with my results. I was quite nervous prior to my surgery and she made me feel comfortable and at ease. Her humor and confidence coupled with her technical skill make her my number one recommendation for all of my family and friends. As a bonus, her office is beautiful and staff is friendly and helpful.
Nicole P.
I highly recommend Dr. Steinberg! I had a breast reduction and tummy tuck 360 in March and I am so happy with my results! Dr. Steinberg and the staff went above and beyond my expectations. I consulted with other physicians before I went to P.S. for my surgery but after one visit there, I knew that I wanted her as my surgeon. She has a great bedside manner and calmed my fears before the surgery and she and the nurses have promptly answered any question I have had.
Courtney G.
Dr. Steinberg performed injections for my facial alopecia. Her tactfulness, compassion, and empathy during the injection process not only made me feel like she truly cared for the way I was feeling, but that I was in highly skilled and professional hands. The way she deals with patients is undoubtedly fantastic, and her injections yielded successful results when numerous other doctors couldn't find success in the same area. Thank you so much, Dr. Steinberg!
Joshua S.
CANDIDATE FOR BREAST AUGMENTATION SURGERY
The best candidates for breast augmentation surgery are in overall good physical health. Basically, this means that you not being treated for cancer or dealing with an active infection or illness. If you're a smoker, it's important to talk to Dr. Steinberg about quitting for at least a certain duration of time before your procedure.
Another critical prerequisite is that you'll be able to take time off from work or school for your surgery. You'll need that time to get the procedure done and to allow your body adequate rest during your breast augmentation recovery.
It's also crucial that those seeking silicone breast implants be older than 22 and those seeking saline breast implants be older than 18. Essentially, the patient needs to be at a mature adult age.
Lastly, make sure you have realistic expectations about breast augmentation. Getting breast augmentation surgery can be a wonderful personal decision, but you should understand the magnitude of your decision and focus on a realistic and honest set of goals for the outcome.
Breast Augmentation Using Implants
The most common types of breast augmentation surgeries use implants. There are two main types of implants. Once Dr. Ashley Steinberg has an understanding of your unique anatomy and goals for breast surgery, she will help you make the best implant decision for you, but ultimately the choice is yours based on the information provided to you.
Saline Implants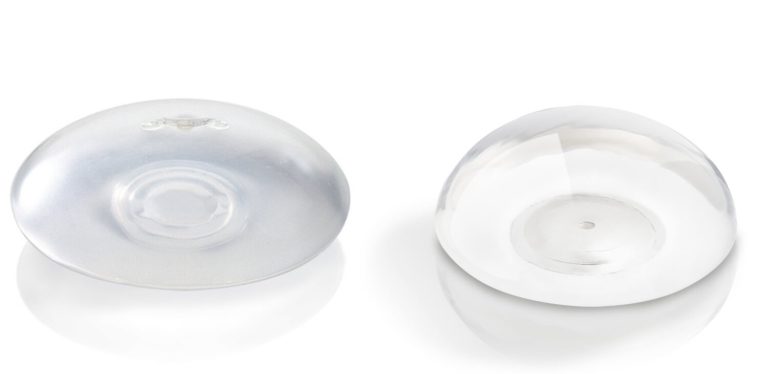 Saline implants are filled with sterile salt water. These are filled after they are inserted into the breasts, which allows for smaller incisions. While saline implants were once quite popular, they have become less popular in recent years because they tend to look less natural than silicone implants. Furthermore, the use of saline implants runs the risk of deflation if a rupture occurs.
Silicone Gel Breast Implants
Silicone breast implants are filled with a thick silicone gel. When you touch and squeeze a silicone implant, it feels very much like real human fat. The result is that silicone gel breast implants tend to be extremely natural-looking. Most surgeons like to see patients who have silicone implants every few years to check for "silent ruptures" (leaks) because they may not be noticeable at first. This can usually be seen on a screening mammogram.
Gummy bear implants are the newest type of silicon implants and have become quite popular. These are made of a dense silicone gel, which is encased in a less-dense silicone shell. They are a good option when the individual's breast tissue is thinner; however, because of their firmness and shape, they do require slightly larger incisions.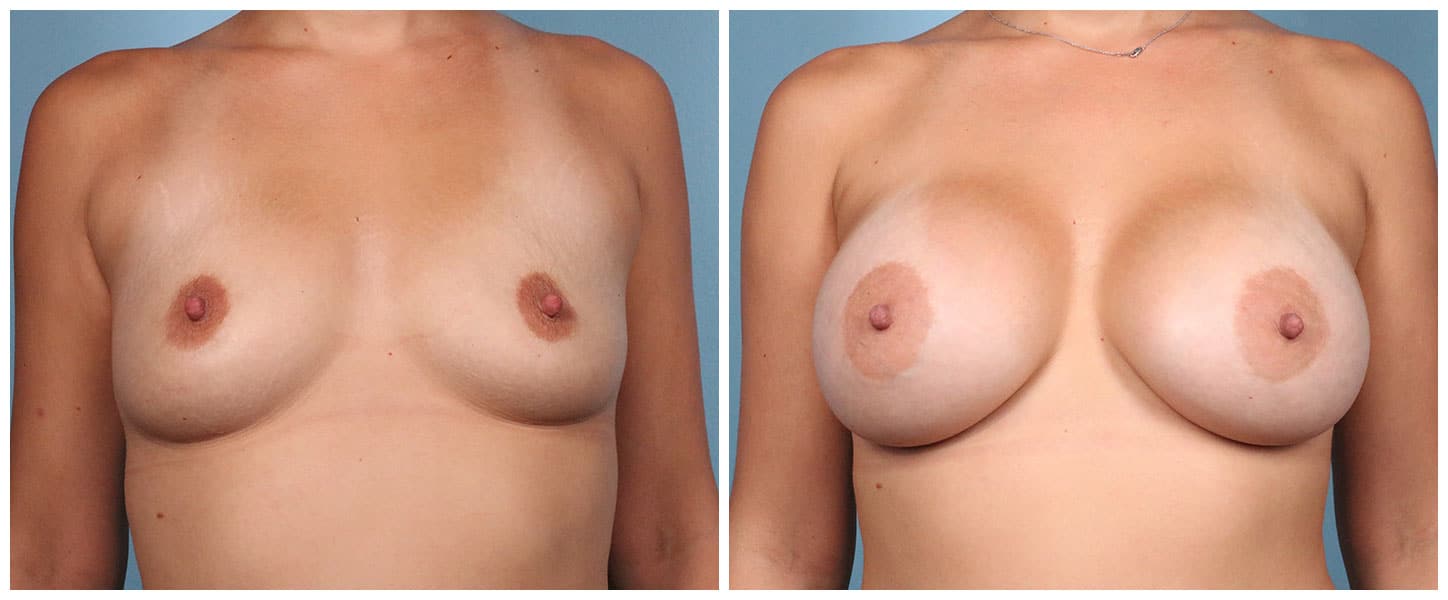 BREAST AUGMENTATION USING FAT TRANSFER
Some patients may benefit from fat transfer breast augmentation in Houston. This procedure takes small amounts of fat from areas of your body like the abdomen or buttocks and injects it into your breasts to add volume or change their shape.
Many patients like that fat transfer breast augmentation feels more natural. The results can also look more natural in many cases. Patients also like that they can reduce body fat in other areas of their body at the same time that they're having breast augmentation surgery.
One of the downsides of this option, however, is that there is a limit to how much bigger you can go with fat transfer augmentation. If you're hoping to go up several cup sizes, this option may not be for you. Also, in some cases, the fat that has been harvested and injected into the breasts may not survive and will instead be reabsorbed into the body, ultimately not producing a significantly enhanced appearance. You can ultimately go up 1-1.5 cup sizes with fat transfer.
Breast Implant Placement
n addition to deciding on what type of implant you'd like to use for your surgery, you also need to discuss breast implant placement with your plastic surgeon.
It's important to know that placement really matters. Many patients don't even know that they have a choice when it comes to placement. Dr. Steinberg will outline what your optimal placement option will be for surgery, but in general, you'll be choosing between submuscular breast implant placement and subglandular breast implant placement.
Submuscular placement refers to under-the-muscle placement of the implant. It is the most common type of breast implant placement. With this option, the implants will be put partially beneath the pectoralis major chest muscle.
The biggest drawback is that there may be slightly more discomfort after surgery with submuscular placement, and recovery times may be slightly longer. On the other hand, most patients and surgeons agree that submuscular implants produce more natural-looking results and have less minor complications. This is especially true when the patient doesn't have an especially large amount of breast tissue to start with.
Subglandular refers to over-the-muscle placement, so in this case, the implant will go over the muscle, between the breast tissue and the chest muscle itself. In this position, patients frequently have less discomfort directly after surgery. They will usually be able to breastfeed in the future if they choose to as well.
The biggest drawback to subglandular placement is that the patient's results may look slightly more artificial than submuscular placement. There is also a possibility of implant visibility, or rippling. Still, surgery is often easier, recovery times are usually reduced, and subglandular placement can often raise the nipple slightly, approximately 1cm.
What does breast augmentation cost?
The total cost of breast augmentation in Houston typically ranges from $5,000 to $12,500. This wide range is due to the fact that each breast augmentation surgery will inevitably be different.
For example, some women are only looking to have one breast augmented in order to improve symmetry. Others may want a breast lift in addition to implants. Others require more complicated surgeries for revisions.
In order to get an accurate picture of the total cost of your surgery, you should meet directly with Dr. Steinberg for an in-person consultation. Keep in mind that most breast augmentation surgeries are not covered by health insurance because they are considered elective procedures.
How can I get natural-looking breast implants?
Today, most breast implants can look extremely natural as long as you have a skilled and experienced plastic surgeon. Still, there are certain additional measures that can be taken to provide for a more natural appearance.
First, when implants are placed under the muscle, the gradual slope at the top of the breast tends to look more natural. Next, if natural-looking breasts are your goal, you should choose smaller implants whenever possible. Finally, patients who opt for fat transfer to the breast tend to have more natural looking results as well (however, this method is best for smaller changes in size and patients who have viable options for donor fat).
What is the most common breast implant size?
The best implant size for you and your body will depend on your body type, breast shape, height, age, ultimate goals, and several other factors. With that being said, the most common sizes for implants usually range from 200cc to 800cc. Breast implants are measured in cubic centimeters. You can expect your breast size to go up one cup size for about every 150 to 175cc.
Can I damage my breast implants?
It is possible for breast implants to rupture, but it is rare. Essentially, a rupture is a leak that occurs in a very low amount of breast augmentation patients. Ruptures can occur in either silicone or saline implants. If they do occur, your plastic surgeon can either remove the implant entirely or replace it for you.
When do breast implants need to be replaced?
Most implants won't need to be replaced. However, you should return for regular checkups according to your plastic surgeon's guidance. If an implant ruptures (leaks), it will need to be removed and replaced. You may also get your implants removed and replaced if you decide you'd prefer a different size or material.
Can you get a breast enlargement without implants?
Yes. If silicone implants or saline breast implants don't interest you, there are other options available. First, many women are able to achieve desired size and fullness with a simple breast lift (mastopexy).
This procedure uses the patient's own breast tissue and repositions it higher on the chest wall. Excess tissue is tightened, and any excess skin is then removed. This will raise your breast on your chest, making them appear larger but you will likely go down half a cup size.
There is also the option of a fat transfer breast augmentation. This procedure naturally enlarges the breasts with the use of the patient's own fat. Excess fat is harvested from elsewhere on the body (usually the stomach, flanks, or thighs), and it is used to enlarge and reshape the breasts.
What can I expect after surgery?
You will have an ace wrap around your chest. This will remain on for 48 hours, at which time you can remove the wrap, shower, and put on a soft, front close bra without underwire. You will have some soreness of the muscle – almost as if you had done a weeks worth of chest exercises. The implants will be high and tight – don't worry! They will gradually descend and be come apart of you over the next 3-6 months.
You will see Dr. Steinberg for post operative visits and photos starting at 2 weeks. You can return to work in 3-7 days, depending on what you do. Swimming, exercising, and bathing are allowed at 4 weeks and by 6 weeks you are in your new cup size and cleared for all activity.
How long do breast implants last?
The lifespan of breast implants can vary depending on several factors, including the type of implant, the patient's age, lifestyle, and whether there are any complications or issues with the implants.
On average, breast implants can last between 10 and 20 years. However, some may last longer, and others may need to be replaced sooner.
It's important to note that breast implants are not considered lifetime devices, and the longer they are in place, the greater the likelihood of complications like capsular contracture and implant rupture.
Are breast implants safe?
Breast implants, like any medical procedure or device, carry some risks. However, the safety of breast implants has been extensively studied over the years, and they have been found to be generally safe and effective.
There are two types of breast implants: saline-filled and silicone gel filled breast implants. Saline implants are filled with sterile salt water, while silicone gel-filled implants are filled with a silicone gel. Both types have a silicone shell.
YOUR CONSULTATION APPOINTMENT
If you are seriously considering breast augmentation procedure your first step will be to book a consultation appointment. This appointment is essential in the sequence of events that must take place before your aesthetic plastic surgery.
During the appointment, you will speak with Dr. Steinberg along with a Patient Care Coordinator.
If Dr. Steinberg, a board certified plastic surgeon feels you would be a good candidate for breast augmentation procedures, you can then discuss your options cosmetic breast surgery, including what type of breast implant options would work best for your goals and body type, where incisions might be made, and optimal implant placement options.
She can also talk to you about other procedures like chin liposuction, mommy m/akeover, tummy tuck, liposuction, Brazilian butt lift, labiaplasty and breast lift surgery.