If you've ever tried to hide a double chin with a turtleneck or strategically placed scarf, you're not alone. Millions of men and women struggle with the frustration and embarrassment of having a double chin, and unfortunately, creams, serums, and massage practices (despite their claims) can do little to help. This is where Dr. Ashley Steinberg can help with chin liposuction in Houston, TX.
Even with intense diet and exercise, it's often impossible to lose fat in the jawline and neck.
Because of this, patients often turn to a plastic surgeon for answers. They want to know how to get rid of double chin fat — and fortunately, there's good news. A procedure called submental liposuction can help.
This procedure aims to remove excess fat through the use of liposuction in the same way that excess fat can be removed from the abdomen or upper arms.
The results from this procedure are noticeable very quickly, and the ultimate change in your facial appearance can be incredible.
What Is Chin Liposuction?
Also known as submental liposuction, chin liposuction is a minimally invasive surgical procedure intended to reduce fat in the neck and jaw area and provide contour and definition. This can reduce or eliminate the appearance of a double chin (excess fat and skin on the neck). The procedure involves liposuction, a technique that uses small incisions and suction to remove fat deposits.
Chin liposuction can:
Remove double chins (submental fat)

Remove "babyface" or "chipmunk" appearance by eliminating cheek fat

Eliminate facial fat that won't go away with diet or exercise

Give you a defined jawline

Long-lasting facial rejuvenation
Are You A Good Candidate For Chin Liposuction?
The best candidates for chin liposuction are in good overall physical health and not actively ill or dealing with serious pre-existing medical conditions.
You must have already tried to lose stubborn fat naturally with a healthy diet and exercise. It's best to be a non-smoker. It is beneficial to have firm, elastic skin and good overall muscle tone. 
Lastly, you must have reasonable expectations in regards to the results of your double chin surgery or chin liposuction.
What Are My Options for Chin Liposuction Houston?
Those who struggle with excess fat, skin, and muscle along the chin, neck, and jawline have several options when it comes to treatment. The best treatment options are available through plastic surgery.
Despite wild claims, store bought and prescription topical creams and serums cannot treat this problem, nor can chin strap devices or massage or lymphatic drainage techniques. 
Chin liposuction Houston is the most popular way to treat a double chin. As a solo procedure, it targets excess fat. It can't, however, improve excess sagging skin. This issue requires combining chin liposuction with a neck or face lift.
Neck Lift
Also called a lower rhytidectomy, a neck lift is a surgical procedure that targets loose skin on the neck and jawline, as well as abnormal contours that may have formed due to muscle banding.
Face Lift
Also known as rhytidectomy, face lifts gently pull back the skin to lift the face! Dr. Ashley Steinberg will adjust the tissues beneath the skin to improve the general contours of your face and provide a smoother, fresher, more beautiful appearance.
Our patients have found success with injectables or fillers too. These patients have only a mild-to-moderate amount of unwanted fat near their chin and jawline. If this sounds like you, speak with Dr. Steinberg concerning BOTOX and other injectable / filler options.
Chin Liposuction Before
&

Afters
https://www.drsteinberg.com/wp-content/uploads/2021/02/Liposuction-Houston-left-45.jpg
480
1399
kari
https://www.drsteinberg.com/wp-content/uploads/2020/09/temp-logo-dr-steinberg-full.png
kari
2021-05-10 20:26:31
2022-08-15 17:35:19
Chin Liposuction Case #1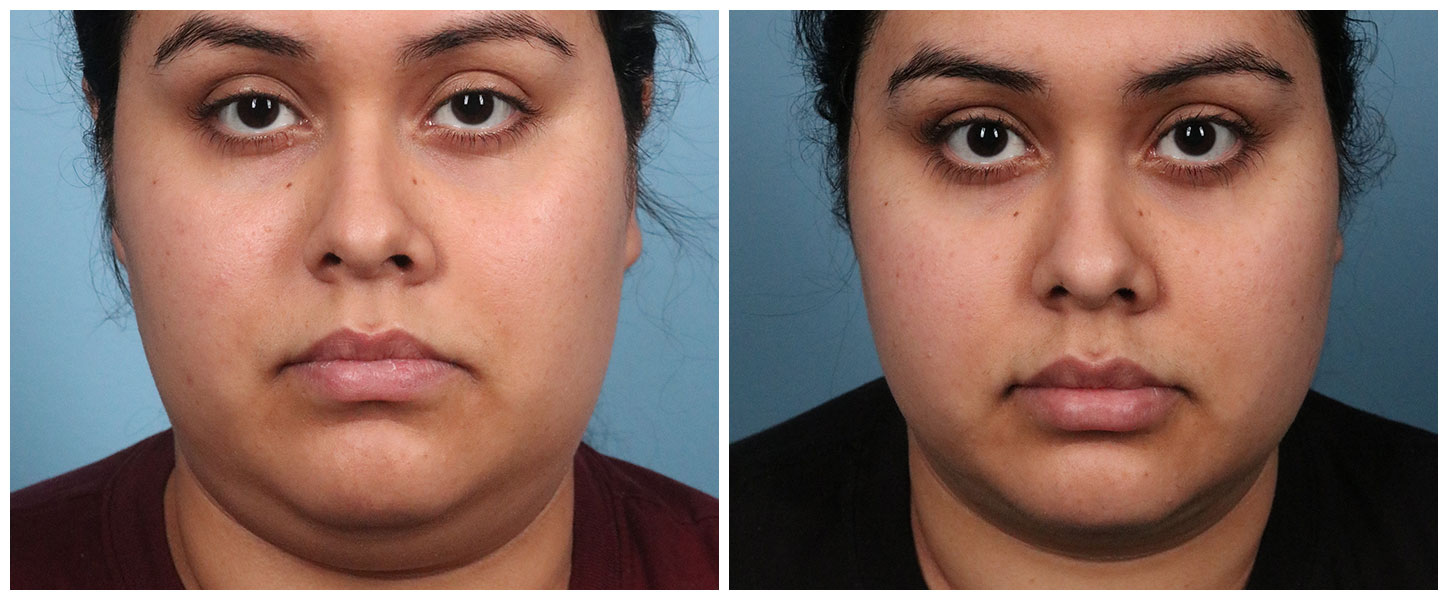 https://www.drsteinberg.com/wp-content/uploads/2021/02/lipo-submental-front-JG.jpg
600
1448
Dr. Ashley Steinberg
https://www.drsteinberg.com/wp-content/uploads/2020/09/temp-logo-dr-steinberg-full.png
Dr. Ashley Steinberg
2021-02-09 15:03:05
2022-08-15 17:36:14
Liposuction Case #2
What's Involved In Chin Liposuction?
Chin liposuction works in the same way as liposuction on other parts of the body!
Once you arrive at our clinic, you will meet with Dr. Ashley Steinberg for your consultation. She will guide you through this process with care, taking physical examinations and asking questions to discover if the procedure is right for you. She will present you with the potential risks associated with the treatment options available to you and the benefits you'll receive with liposuction. You will explore Ashley's recommendations such as double chin removal, chin and jawline liposuction. We always urge you to bring a list of questions and concerns with you to our meeting. Please do not hesitate to ask us at any time during your surgery consultation. When you hear complicated topics which you need clarification on, let Dr. Ashley Steinberg know that you're not clear on something she said. It is crucial that you understand and are confident in the course of treatment for double chin surgery and the required preparation and recovery for the procedure.
Some questions you may ask regarding this procedure include:
Am I a good candidate for submental liposuction?

Should I consider a neck lift or facelift in addition to liposuction?

Where will my procedure be performed?

How much is chin lipo?

How long will my recovery likely be?

How long do I have to wait to see results from chin liposuction?

What are the risks of chin liposuction?
During The Procedure
Dr. Steinberg will perform a final examination and make several strategic markings on your neck and jawline. These are references for the doctor during the surgery.
Your skin will be thoroughly cleansed and an antiseptic solution will be applied. Anesthesia will be administered to improve your overall comfort during the procedure. If you prefer sedation during the treatment, this may be an option as well.
Once the anesthesia has been administered, Dr. Steinberg will make small incisions around the target area. She will then insert a cannula into the incisions that is attached to a suctioning mechanism. Cannulas are thin metal tubes that are hollow inside. With slight agitation and gentle suction, Dr. Steinberg will use the inserted cannula to remove a discreet amount of fat from the chin and jawline area. Dr. Steinberg knows exactly which fat deposits to target and how much fat to remove in order to facilitate an improved appearance that looks natural. The results are a smooth, contoured, and even face, chin, and jawline.
During The Recovery
Recovery from chin liposuction and double chin removal is short! This is one of the great features of chin and jawline liposuction.
After your surgery, Dr. Ashley Steinberg will apply the necessary bandaging and a chin strap. In some cases, drains may be used to reduce the buildup of fluid and overall swelling. You should be prepared that some swelling, bruising, and discomfort is to be expected after surgery. Your face may feel tight for a few days.
From here, the liposuction recovery timeline will largely depend on which procedure options you choose to undergo. A more complicated surgery will naturally require a longer recovery period. A normal chin liposuction procedure will allow you to return to work in about three days to a week post-surgery!
You will meet with Dr. Ashley Steinberg one or more times during this period, and she will examine the progress of your results and remove the bandages as needed. Please wait until Dr. Ashley Steinberg gives you the greenlight before returning to work and normal activity, since not doing so could diminish the final results!
Chin Lipo Risks
Submental liposuction for chin, face, and jawline is generally a safe and risk-free procedure! The recovery time is short and you aren't getting a full body liposuction, which makes this surgery particularly safe. However, as with any surgical procedure, there are always risks and possible side effects to be aware of. Dr. Ashley Steinberg will discuss these with you at your consultation appointment. Be sure to ask any questions you may have in regards to this topic.
Dr. Ashley Steinberg will let you know of any heightened risk of complication at your consultation meeting.
Chin Liposuction Costs
The cost depends largely on the specifics of your procedure. Are you undergoing liposuction alone or have you opted for a neck and/or face lift as well? Overall, a surgery targeting excess fat and/or skin around the jawline and neck will cost anywhere from $1,200 to $12,700 depending on the amount of procedures performed.  The average cost for chin liposuction in Houston is approximately $3000.
When choosing a doctor for chin liposuction, it is crucial you do not go for the cheapest option. The price may be lower, but the results will be too. Not to mention, they can be uneven or carry unnecessary risks. 
Factors such as the use of anesthesia, the experience of the doctor, and the supplementary procedures affect the pricing of chin liposuction.  Consult with Dr. Ashley Steinberg today to see what your final cost would be to achieve your desired results.
Chin Liposuction: Frequently Asked Questions
Here are some of the most frequently asked questions we receive about how to remove double chin fat through submental liposuction.
Does health insurance cover double chin surgery?
Generally speaking, most health insurance companies will not cover cosmetic surgeries like chin liposuction.
What's recovery like for chin liposuction?
Recovery from chin liposuction is fairly straightforward. There will be some discomfort, bruising, and swelling during the initial period of one to two weeks post-surgery. The symptoms will be stronger and more apparent if your surgery involved additional procedures such as a neck lift or face lift.
How long do I have to wait to see results?
The results from your chin liposuction should appear relatively quickly. That's because the liposuction process permanently removes the fat right away. What may cover your results for at least a few days, however, is the swelling that's common after a procedure like this.
After liposuction, swelling and some discoloration and bruising are completely normal. In some cases, your surgeon will also use drains to help keep the swelling to a minimum. These drains will be removed after a few days.
Once the swelling goes down, you'll begin to see a slimmer and smoother chin and neck area beneath your bandaging almost right away. These results will only become more apparent with time.
Will I have scars from double chin removal surgery?
Liposuction does require making several small incisions in and around the neck and chin area, and this will inevitably result in a few small, barely noticeable scars. Your surgeon is well-adept at making incisions in discreet areas and closing them carefully, so in nearly all cases, scars won't be in plain sight.
One thing to keep in mind if you are concerned about post-surgery scars is how you care for the affected area after surgery. By carefully following the recovery care instructions given to you by Dr. Steinberg, you'll drastically reduce your chances of having noticeable scars.
Schedule Your Double Chin Liposuction Houston Consultation Today
Dr. Ashley Steinberg can help reduce the appearance of a double chin and improve the contours of your chin, neck, and jawline! The results can give you increased self-esteem and a renewed sense of confidence in your appearance.
Want to find out more about double chin removal and chin lipo in Houston? Give us a call today to schedule a consultation appointment with Dr. Ashley Steinberg.