Brazilian Butt Lift Houston
The Brazilian butt lift Houston is one of the most common cosmetic procedures used to enhance the buttocks. Also known as buttock augmentation or fat transfer, this surgery uses the fat transfer process to relocate unwanted fat from one part of the body to the buttocks.
If you are interested in learning whether or not you would be a good candidate for Brazilian butt lift surgery, Dr. Ashley Steinberg can help. She has the experience and expertise necessary to guide you through the entire process, from your first consultation appointment through to surgery and the recovery process.
What Is a Brazilian Butt Lift?
Brazilian butt lift surgery is a cosmetic procedure that aims to change the shape and volume of the buttocks. The procedure uses the patient's own body fat for enhancement. This process is called fat transfer.
The first portion of the surgery involves Houston liposuction. Your surgeon will remove unwanted fat from specific areas of your body (for example, your upper arms, abdomen, or flanks). Next, the fat will be reinserted into the buttocks and surrounding areas to give a fuller, more proportional appearance to your body.
Who Is a Good Candidate for a Brazilian Butt Lift?
If you are unhappy with the current shape or volume of your buttocks, you generally have two options: a Brazilian butt lift procedure that uses the fat transfer process or butt implants. Both procedures will add volume to the buttocks and alter the overall shape. However, many patients and surgeons prefer Brazilian butt lifts because they offer a more natural solution. That is, butt implants are using a foreign object to enhance the buttock's size, and the fat transfer process uses the patient's own fat.
The best candidates for Brazilian butt lift surgery are in good overall physical and mental health. It's very important to have a realistic outlook when it comes to any type of cosmetic surgery. While this procedure can definitely improve your self-confidence and make you feel good in your skin and the clothes you wear, you should have realistic expectations as well.
Finally, keep in mind that the best candidates are non-smokers and within a healthy weight range.
A Brazilian butt lift can make your silhouette more proportional while defining your natural contours.
What Are My Options for a Houston Brazilian Butt Lift?
The technology surrounding the fat transfer process is becoming increasingly advanced. Today, most patients who are looking to augment and enhance their buttocks are able to do so through fat transfer. Still, one of the most important things to consider when thinking about a Brazilian butt lift surgery is whether or not you have enough fat to be harvested. That is, you need fat from other places on your body that can be removed and placed onto your buttocks and the surrounding area.
If you do not have enough fat to be harvested, however, you can still change the appearance of your buttocks.
Brazilian Butt Lift Before
&

Afters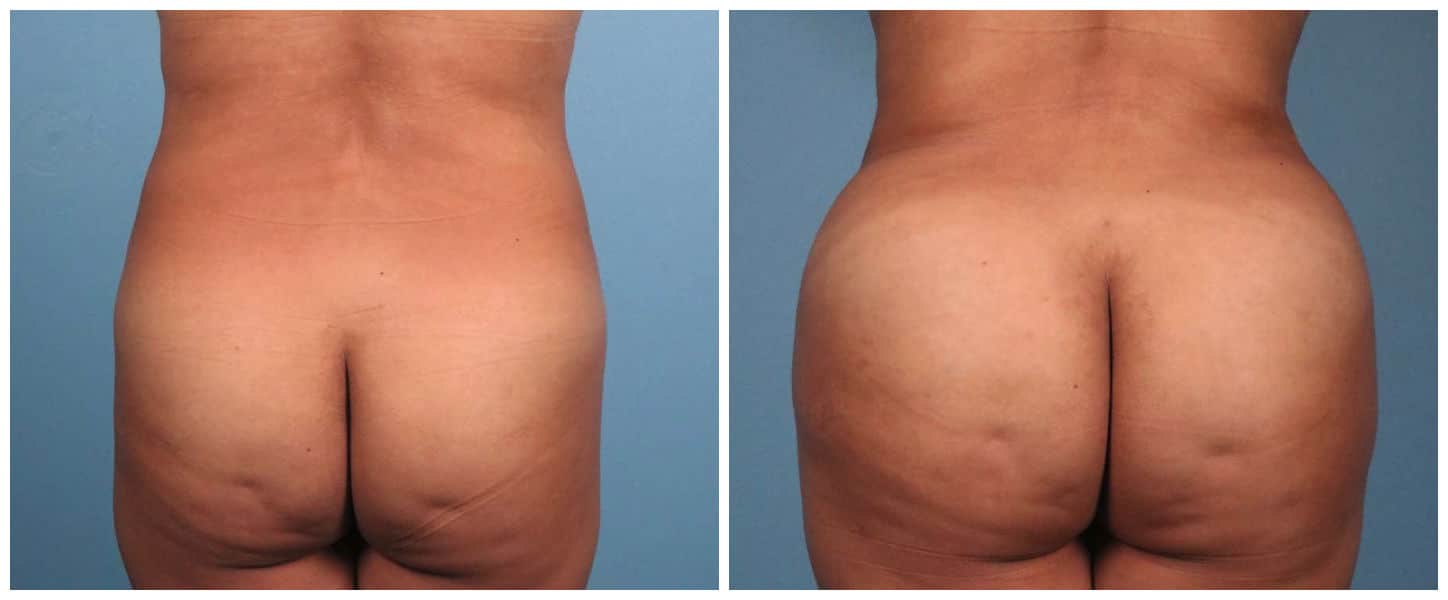 https://www.drsteinberg.com/wp-content/uploads/2020/11/body-lipo-bbl-PG-1.jpg
600
1448
kari
https://www.drsteinberg.com/wp-content/uploads/logo-header-trouvaille-dr-steinberg.png
kari
2020-11-20 21:53:20
2022-08-15 17:31:43
Brazilian Butt Lift Case #1
What to Expect at Your Consultation
Consultation appointments for cosmetic surgery generally involve three parts. First, you'll be speaking with Dr. Ashley Steinberg about what you're looking for in terms of an outcome and results for your Brazilian butt lift surgery. Be sure to include any goals you may have for your appearance. It's possible that a procedure such as liposuction, a Houston tummy tuck, or breast augmentation may benefit you as well.
Next, you'll discuss your medical history. Be sure to bring a list of your current medications and any dietary supplements you are taking. Be honest about your overall health, any medical conditions you struggle with, and all recent surgeries.
Finally, Dr. Ashley Steinberg will perform a physical examination. It's helpful to wear loose fitting clothing that you can easily take off for this purpose.
What to Expect During Your Brazilian Butt Lift Surgery
Once you arrive at the accredited surgical facility, you will be welcomed by our staff and taking to a pre-surgery room. There, you will get a chance to meet with Dr. Steinberg for a few moments and ask any final questions that you may have. She will make several markings on your body that will help her during the actual surgery.
From your pre-surgery room, you will be taken to the operating room where you will meet your anesthesia provider. General anesthesia is used for Brazilian butt lift surgeries. The procedure will involve two phases: liposuction and fat insertion. Generally speaking, the process takes between two and four hours altogether.
What to Expect During Recovery
After your procedure, you will be taking to a postoperative recovery room where you'll wake up from your anesthesia and get a chance to speak with Dr. Steinberg again about how the procedure went. You should have someone close to you who you trust to take you home after your surgery. Because Brazilian butt lifts are outpatient procedures most of the time, you will likely be able to go home on the same day as your procedure.
During the BBL recovery time, be sure to follow the recovery instructions given to you by Dr. Steinberg. You may experience some pain, discomfort, and swelling, but you will be given pain medication, compression garments, and instructions for icing to help with the symptoms.
You will also meet periodically with Dr. Steinberg for postoperative appointments. You should be able to return to work or school within one or two weeks, and normal exercise should be able to recommence after approximately six weeks. It's important to wait at least three months after your procedure to assess the final results of your Brazilian butt lift.
Enhance your shape and boost your confidence with a Brazilian butt lift.
What Are the Possible Risks and Complications of a Brazilian Butt Lift?
As with all surgeries, there are some complications and possible risks to be aware of when it comes to Brazilian butt lift surgery. These include:
Bruising and swelling
Blood loss
Stretch marks
Fat and tissue necrosis
Blood blots, deep vein thrombosis, and fat embolisms
Stretch marks
Pulmonary and cardiac-related complications
Brazilian Butt Lift Houston: Frequently Asked Questions
How much does a Brazilian butt lift cost in Houston?
All cosmetic procedures are unique. Therefore, the cost of every Brazilian butt lift will vary, depending on a range of factors. In general, however, you can expect to pay anywhere from $10,000 to $18,000 for a Brazilian butt lift.
The best way to know for sure how much your Brazilian butt lift will cost is to book a consultation appointment with your plastic surgeon.
How long will a Brazilian butt lift last?
With any fat transfer process, some of the grafted fat will not live in its new location. Instead, it will be reabsorbed by the body and will, therefore, not to contribute to the enhancement of the targeted area. In most cases, however, your surgeon will plan for this and will relocate a certain amount of excess fat so that some reabsorption does not impact the overall result.
What's the difference between butt implants and a Brazilian butt lift?
Both butt implants and the Brazilian butt lift aim to enhance the buttocks. However, it can be argued that a Brazilian butt lift is more natural than butt implants because foreign objects are not being inserted into the body to add volume and firmness. Instead, with a Brazilian butt lift, fat from the own patient's body is transferred to the buttocks to enhance it.
When will I see results from a Brazilian butt lift?
You should expect to see your final results in approximately three months. Throughout this time, you will be meeting with Dr. Steinberg for regular postoperative appointments so that she can assess the progress of your healing and results.
Book a Brazilian Butt Lift Consultation With Dr. Steinberg
Interested in improving the shape and contours of your buttocks but not interested in using implants? The Brazilian butt lift near me could be just what you're looking for. To learn more about Brazilian butt lifts and how the fat transfer process works, contact us today to book your initial brazilian butt lift consultation with Dr. Ashley Steinberg, top-rated plastic surgeon in Houston.