A mini tummy tuck can be a life-changing surgery for many patients. It is popular among moms who want to flatten their midsection and remove excess fat and stretch marks after pregnancy. It is also popular among individuals who've lost some weight, as a way to smooth the abdomen and get rid of uncomfortable loose skin on the lower abdomen. 
When it comes to the positives and negatives of the procedure, there's very little to complain about. Mini tummy tucks can provide excellent results for patients with excess skin and a "pooch" of excess fat on their lower abdomen. However, likely, the biggest drawback is the scar. 
The truth is, every mini tummy tuck procedure requires one lateral scar beneath the bikini line.
But there's good news here. Just because you have scars from any cosmetic surgery does not mean that they'll always be super noticeable. In fact, we have some excellent tips for helping you hide your mini tummy tuck scar.
Where Is the Scar After a Mini Tummy Tuck?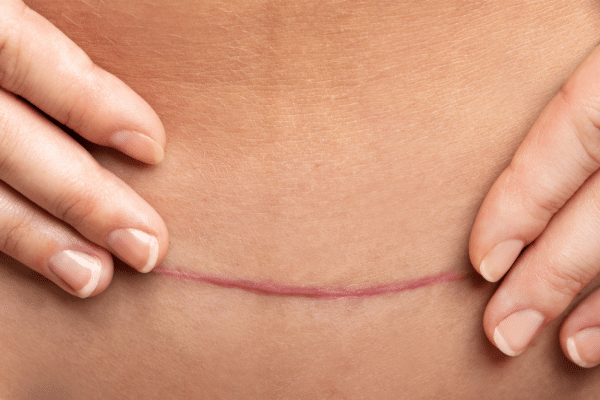 For most mini tummy tuck surgeries, a lateral incision of several inches must be made far down on the abdomen between the hip bones. The length of this incision will depend upon the scope of the surgery. Sometimes, with a full tummy tuck, other incisions will need to be made as well — either around the sides of the abdomen to the back, or vertically along the lower abdomen, or both.
Mini tummy tuck scars are the least visible scars of any of the tummy tuck procedures. Each mini tummy tuck procedure requires just one incision, made just above the pubic area. It is usually a few inches long. Look up mini tummy tuck scar pictures and mini tummy tuck scar before and after photos to get an idea of what they look like.
Tips for Hiding Your Mini Tummy Tuck Scar
#1 – Wear your compression garment regularly.
Dr. Steinberg will tell you how often you should be wearing a compression garment. This article of clothing will help keep swelling and inflammation reduced and stop the buildup of fluid. It can also help shape your midsection as you heal. 
Once you no longer need to wear a compression garment, wearing leggings or tights with a high, snug waist can help you feel more comfortable.
#2 – Take care during your recovery. 
Recovery from a mini tummy tuck surgery can take several weeks, and it's important to be fastidiously careful with your body during that time. 
Most notably, never extend yourself past what's comfortable. Don't stretch your midsection by reaching or laying in an awkward position — tension is your enemy during recovery! 
Next, be sure to keep your incision area clean and dry. Dr. Steinberg will give you bathing instructions for the days and weeks following surgery. Finally, get plenty of rest and relaxation — your body needs it!
#3 – Use scar treatments with silicone as an ingredient. 
Silicone has been known to be highly effective at minimizing the appearance of scars after surgery. You can buy silicone creams and gels as topical treatments, or you can buy silicone sheets, which can be worn constantly. Using silicone correctly can lead to flatter, softer scars.
#4 – Look into laser treatments.
Genetics can play a large role in how your scars look after surgery. For patients who have suboptimal results with their scars, laser treatments can help improve the appearance of scars as well. These procedures use resurfacing lasers to reduce the texture of scars and smooth them out.
#5 – Stay out of the sun.
It is uniquely important to cover your skin and wear sunscreen during your recovery from mini tummy tuck surgery. Tummy tuck scars can become darker and thicker when exposed to UV rays. Even a mini tummy tuck scar after 1 year should be kept covered when at the beach or otherwise exposed to the sun.
FAQ: Mini Tummy Tuck Scars
What does the scar from a mini tummy tuck look like?
Right after surgery, your incision line will be thin and red or purple in color. You won't feel the area at first because it will be numb, and you'll be bandaged and swollen. Slowly, the intense color will fade, swelling will reduce, sensation will return, and your incision will continue to flatten out through the healing process.
Is a mini tummy tuck scar smaller than a full tummy tuck scar?
Sometimes, yes and sometimes, no. It depends on how much loose abdominal skin you have and the scope of the overall surgery. Frequently, a mini tummy tuck scar is about as long as the lower abdominal scar of an average full tummy tuck scar.
How long is a mini tummy tuck scar?
Any lateral tummy tuck scar will be at least a few inches long. Most tummy tuck scars are between four and eight inches long, depending on the extent of the procedure.
Book a Consultation to Discuss Your Mini Tummy Tuck
So, is a small scar worth the considerable improvements a mini tummy tuck can provide? Many individuals are so concerned about scarring after mini tummy tuck surgery that they forego the procedure and a flatter stomach altogether. 
In reality, the significant transformation that a mini abdominoplasty can offer is almost always worth a small, easy-to-hide scar. A mini tummy tuck removes excess skin, removes excess fat (via liposuction), and flattens the stomach. 
Of course, a mini tummy tuck is not always the correct procedure for everyone. If you are wondering if it is possible to get a mini tummy tuck after a C section or to find out if a mini tummy tuck is right for you, call and schedule an in-person consultation appointment with board certified plastic surgeon Dr. Ashley Steinberg. 
References
https://www.plasticsurgery.org/news/blog/what-type-of-tummy-tuck-is-right-for-you
https://www.drsteinberg.com/wp-content/uploads/logo-header-trouvaille-dr-steinberg.png
0
0
Dr. Ashley Steinberg
https://www.drsteinberg.com/wp-content/uploads/logo-header-trouvaille-dr-steinberg.png
Dr. Ashley Steinberg
2023-05-28 20:38:10
2023-06-14 11:56:49
How to Hide a Mini Tummy Tuck Scar